Rover V8 section
So the time came. The V8 had been rebuilt as far as was possible, the parts I would need later were in the garage - it was time to take the plunge. I had one last look at the working 907 in the engine bay, took it out for one last thrash, switched it off and stared for a while. This was scary - there was no guarantee the car would ever work again! Still, as gloops of hot oil dripped onto the garage floor, I knew that one day (hopefully) the glorious burble of 8 cylinders would reverberate around the garage. As per the Lotus manual, pipes, electrics and ancillaries were removed, the mounting bolts were loosened, the hoist was attached with chains and, like some filthy dormant metal beast, the engine tipped up, and slowly eased away from the fibreglass shell. And as if to make some last defiant indignant statement, the 907 spat gearbox oil everywhere as it strained over the car.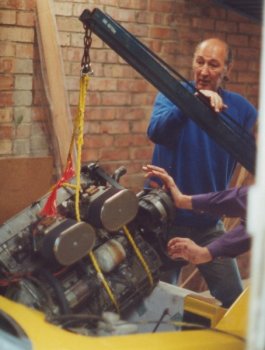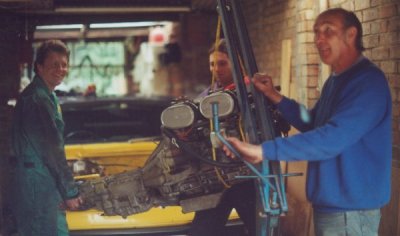 So this was it - the game had begun.

Everything was dismantled and I began to discover what delights my knackered 907 engine had to offer. To be honest there wasn't anything major (and I never did discover where the oil leak came from) but it was dirty, oily and needed overhauling. Seeing as a set of Lotus pistons and liners come in at around £1 000, you can see why a V8 for 50 quid seemed so attractive. Still, the oil on the engine made it fairly easy to disassemble.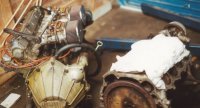 So far, so good. With the exception of the old Lotus exhaust pipes (which had to be cut through as they were so solidly together) I had not had any problems. I suppose I should have been grateful, but instead I was just suspicious - where was the foul-up fairy and why hadn't she sunk her jagged teeth into me yet?

Back to Top | Back to restoration index | Page 1 | Page 4 | Page 6