Air filters (4 articles)
Various numbers
There is a Lotus filter package with the no. A907E6182ZH, but there is another one of A907E61827H.

The number portion is always 4-digits.

And it's not an "Esprit" number, it's just a Lotus 907 air filter number. More explanation follows later. Revised List:

Lotus.............. A907E6182ZH or A907E6182Z
Lucas............. F9164
Beck............... 042-0976
Big A.............. 94005
Coopers........ AG487
Fram.............. CA3166
Wix................. 46005
Geon.............. 48-0358-9
K&N............... 2011
Mann.............. C-4368
World Parts... W27-606
Jaguar........... XKE 70-71 & XJ-6 70-78
Triumph......... TR-7 77-78 & Stag 70-73
Crossland.......9035

The 6182 portion of the Part Number is the real part identifier and it's the same as the number you posted. The suffixes are used to identifiy different vendors and such and do not indicate a different part configuration (fit, form, function).

The A pre-fix is used to identify design changes that are still interchangeable. A (ficticious) B907E6182Z would be a different design to replace the A907E6182Z but still be interchangeable with it. It might be more cost effective or work better in some way, but it would still fit.

A design change that is not interchangeable would result in a different 4-digit identifier number. 6182 would become something else.

By the way the rubber seal is B907E0588ZL. This part can be transfered from filter to filter and re-used. When you really need to replace it, it's sold separately at nominal cost.

A......... Revision, but still interchangeable.
907..... Where the part was first used (026=Elan, 046=Europa, etc).
E......... Engine (A=Chassis, B=Body, C=Front Suspension, etc).
6182... Sequential part number.
Z.......... Alternate vendors, manufacturing processes, etc. >



Q
Did Esprit and Eclat/Elite use the same configuration for a time. If the filter changed, at what point did this happen?

A
The Elite/ Eclat/ Esprit/ Turbo all use the same basic air filter... ignoring prefixes and suffixes.



K & N info 1
K&N filter ELEMENT (cartridge) number: E-3340.
6-1/8" OD, 5-1/8" ID, 3-1/4" H.
Custom replacement for K&N 4-1/2" x 7" filters. (Stock # 470-S-3340).



K & N info 2 (See pic. below)
O.K. I've just gone and fitted some replacement K & N air filters on my Eclat - so any of you needing the number, here is EXACTLY what the label on the box says.....

Part No. 56-1350
Desc. SDO 7x4-½ Oval 3-¼ H
U/M : EA

Please note - these are NEW replacement filters (2 x oval, 1 per carb) - NOT the replica of the filter that goes inside the standard air box. I hope this helps someone ! (Feel free to write if you need more info.)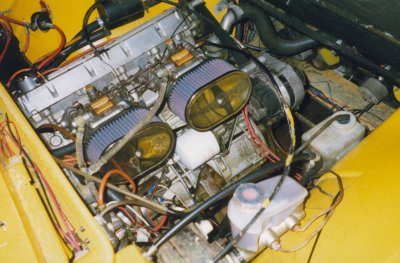 Back to Top | Back to technical help index